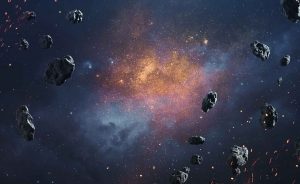 A new Swedish research project will develop game-changing AI-technology for space exploration. Scientists in robotics and AI are teaming up with space engineers in a new partnership project between Luleå University of Technology and space mission operator OHB Sweden. Over a five year period, RIT2021 has launched this along with 12 other new space research and development partnerships.
The current technology makes it difficult and unprecise to explore small space objects – and therefore unviable as space missions. Something Avijit Banerjee, George Nikolakopoulos at Luleå University of Technology and Per Bodin at OHB Sweden are hoping to change by developing autonomous navigation systems based on artificial intelligence.
Space organizations around the world are in a race to develop a technology that makes it viable to send missions to small space objects like asteroids and comets. These objects provide scientists important facts about the origins of life on Earth. They also hold precious metals like iron, gold and platinum that could be used for space construction or be brought back to Earth.
The new research project is funded by RIT2021, a multi-layered injection into the space ecosystem encompassing a budget of 5.6 million Euro. A key focus in RIT2021 is to drive innovation by increasing industry-academia partnerships in research and development. Thus far, RIT2021 has successfully launched 13 such joint collaborations between Luleå University of Technology and space industry partners since 2015 –  creating not just new applications of technology but also career opportunities and knowledge exchange between two previosly detached sectors within space.
Per Bodin, head of attitude and orbit control systems at space mission operator OHB Sweden says: "RIT2021 enables us to work with research and development outside the scope of our current operations, but which will be important to us in the future."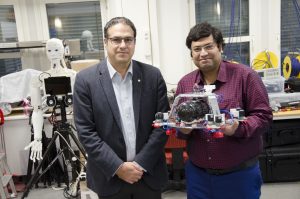 George Nikolakopoulos, professor and head of subject at Luleå University of Technology will be supervising the project. With a background in robotics and AI, he says integrating with other areas of research is key to develop new applications of technology.
"In the future, artificial intelligence and algorithms will operate as part of space missions. We're excited to drive innovation by integrate two focus areas of research at Luleå University of Technology – Space and AI."
Avijit Banerjee, PhD with a background in autonomous soft-landing technology for spacecrafts, will be executing the research. He says this project was the perfect next step in his career as a space researcher and is relocating to northernmost Sweden for the project since this is a region where the space industry has strong activities in Europe.
"I'm looking forward to explore space navigation issues from an industry perspective together with this unique team of OHB Sweden and the world class robotics team at Luleå University of Technology."
Background
RIT2021 is a regional development project in operation 2019-2021, aiming to boost innovation and cooperation in the space sector. RIT2021 is operated by Luleå University of Technology, LTU Business, The Swedish Institute for Space Physics, Arctic Business and ESA BIC Sweden, with support from SSC – Swedish Space Corporation, OHB Sweden, GKN Aerospace, Region Norrbotten, Luleå Municipality, Kiruna Municipality, Sparbanken Nord & EU. More info on ritspace.se