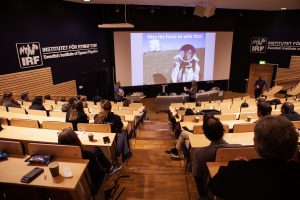 Dr/LtCol Ella Carlsson
Women in Space is a professional network to empower women and non-binaries in the aerospace community and inspire girls and women to a future in the industry. During the autumn, two events have taken place – in Kiruna at Space Innovation Forum in October and hybrid in December where Sweden's first military space chief and MATS mission project manager gave inspirational key notes. During 2023, Women in Space will have monthly networking events.
Ella Carlsson – Sweden's number one military space chief
30 university students and industry professionals joined to hear Dr/LtCol Ella Carlsson, Chief of Space Capabilities and development, Swedish Air Force share her amazing journey into space. A journey that started with a strong fascination with the planet Mars and resulting in a degree in space engineering from Luleå University of Technology. Following her studies, Ella has had wide experience in the industry and recently made history as the Air Force's first military space chief. Her message to the audience was clear:
– You really need to ask yourself what your dream is, then investigate how to achieve that dream. After that comes the hardest part: Just do it. Exactly like Nike-commercial says. That is my advice to you all – follow your dream.
 Dr Sandra Vázquez Martín – MATS mission project manager
For the December meetup, Sandra Vázquez Martín from SSC Swedish Space Corporation talked about being part of the prep and launch of MATS mission on November 4 2022.
– The MATS project was an exciting and enriching experience. It's a research satellite mission to study the atmosphere so it's closely related to my academic background. Also, it was my first experience as the main project manager and I have to say that I feel proud to have been part of such an interesting project. I have developed my management skills and learned from my colleagues at SSC. I have been very fortunate to have worked with the best team at SSC and OHB Sweden, Sandra Vázquez Martín says.
Sandra has a Bachelor's Degree in Physics and a Master's in Astrophysics. She successfully defended her doctoral thesis on Atmospheric Science in March 2021 and has been working as a project manager at Swedish Space Corporation (SSC), Esrange in the Satellite Management Services (SaMS) Team.
Women In Space organized a local walk-and-talk in Kiruna on the same evening – an opportunity to network and further discuss the topics that came up during the lunch lecture.
RIT will arrange lunch lectures with subsequent evening walk-and-talks once a month throughout 2023.
Stay up to date and know when the next event takes place:
Homepage: www.ritspace.se
Facebook group: https://bit.ly/3HHLjy9
LinkedIn group: https://bit.ly/3YznA9h
FACT MATS
MATS (Mesospheric Airglow/Aerosol Tomography and Spectroscopy) is a Swedish satellite mission designed to investigate atmospheric waves. It will do so by imaging variation in the light emitted by oxygen molecules at 100 km, as well as structures in the highest clouds in our atmosphere, the so-called noctilucent clouds, which form around 80 km. By performing a tomographic analysis of these images, 3D reconstruction of these waves can be done. This will allow the MATS mission to provide the first global map of the properties of atmospheric waves in all spatial dimensions.