Dear partners and stakeholders,
Time flies and the first year within RIT2021 is soon coming to an end. 2019 has been fruitful, and since the kick-off in February we are up and running at good speed. The aerospace industry is growing and RIT2021 is working hard to strengthen Norrbotten as a strong space region. I would like to congratulate us all for the excellent teamwork by highlighting some of the fruitful activities being performed.
Rewarding initiatives by two financiers
Regarding the work with communication about our project, I would like to highlight some rewarding initiatives made by two of our financiers. First out was Sparbanken Nord, who has taken the initiative to publish a series of articles about their engagement in driving the regional space business forward. Fantastic! Then Region Norrbotten invited us to present RIT2021 at an event in Luleå called "Morgonrock" were current regional business development is presented. Thank you! (see the video here).

A scientist at IRF in SpaceLab calibrating an instrument going to Jupiter. Foto: Annelie Klint Nilsson, IRF 
Space Innovations Forum focusing on Testbeds
We have performed two "Space Innovations Forums" within RIT2021 so far and both were fully booked. The first forum was more of a kick-off and at the second one we focused on three regional testbeds connected to space: SpaceLab at Space Campus in Kiruna, Testbed Esrange in Kiruna and the National SpaceDataLab in Luleå. LTU Business guided us through a workshop about success factors for creating and developing testbeds. More than 90 persons registered for the whole programme and far over 100 persons participated day 1, representing a rather balanced share amongst space companies, SME:s, academia and innovation support actors. A really fruitful mix! According to the evaluation, the three group leaders got very interesting outputs that they can use in the next step of development towards innovation and growth within the space sector. We also had personal mentors from the space industry for ten of our space students. It seems like it was a really good initiative and we will continue to run this activity in coming forums. Read more here.
The next Space Innovation Forum will take place on 11-12 March, this time focusing on "Micro launchers" connected to Testbed Esrange. SSC is working actively in the programme committee and a very interesting agenda is taking shape. We will present the upcoming business around micro launchers, including the need of procurements from regional suppliers and potential establishments of international rocket motor developers. The programme will be published in January on the RIT2021 website "Upcoming Events".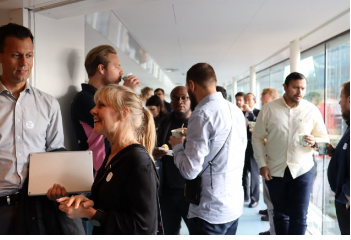 Participants at Space Innovation Forum mingling. Minglels
R&D projects
The next PhDs in line are Kanika Garg and Christo Dordlofva. Kanika Garg is working on "an autonomous navigation system for high altitude balloons", a cooperation between LTU and SSC. The date is set to January 24. Christo Dordlofva is working on "design and qualification of additive manufacturing of space components", a collaboration between LTU and GKN Aerospace and he will defend his thesis on March (date tbd).
The plan is to employ four new PhDs and five PostDocs during RIT2021, all working on challenges within the aerospace industry. The fist PhD, Emil Edin, is already in place focusing on material science. The rest of the posts are soon to be announced and we will have all in place in May 2020 at the latest. Read more about our PhDs here.
Innovation and business development
We are building a sustainable ecosystem for the global arena that attracts people, investors and companies to the region. So far ESA-BIC Sweden and LTU Business have met 21 space related business cases and eight of them have evolved into regional start-ups, a result that we should be very proud of. The latest companies are Centropy in Piteå, developing a carbon fibre cooling systems and Arctic Space Technology in Luleå, providing communication solutions through software defined radio. Both are supported by ESA-BIC Sweden, who most probably will announce another start-up connected to space in the near future.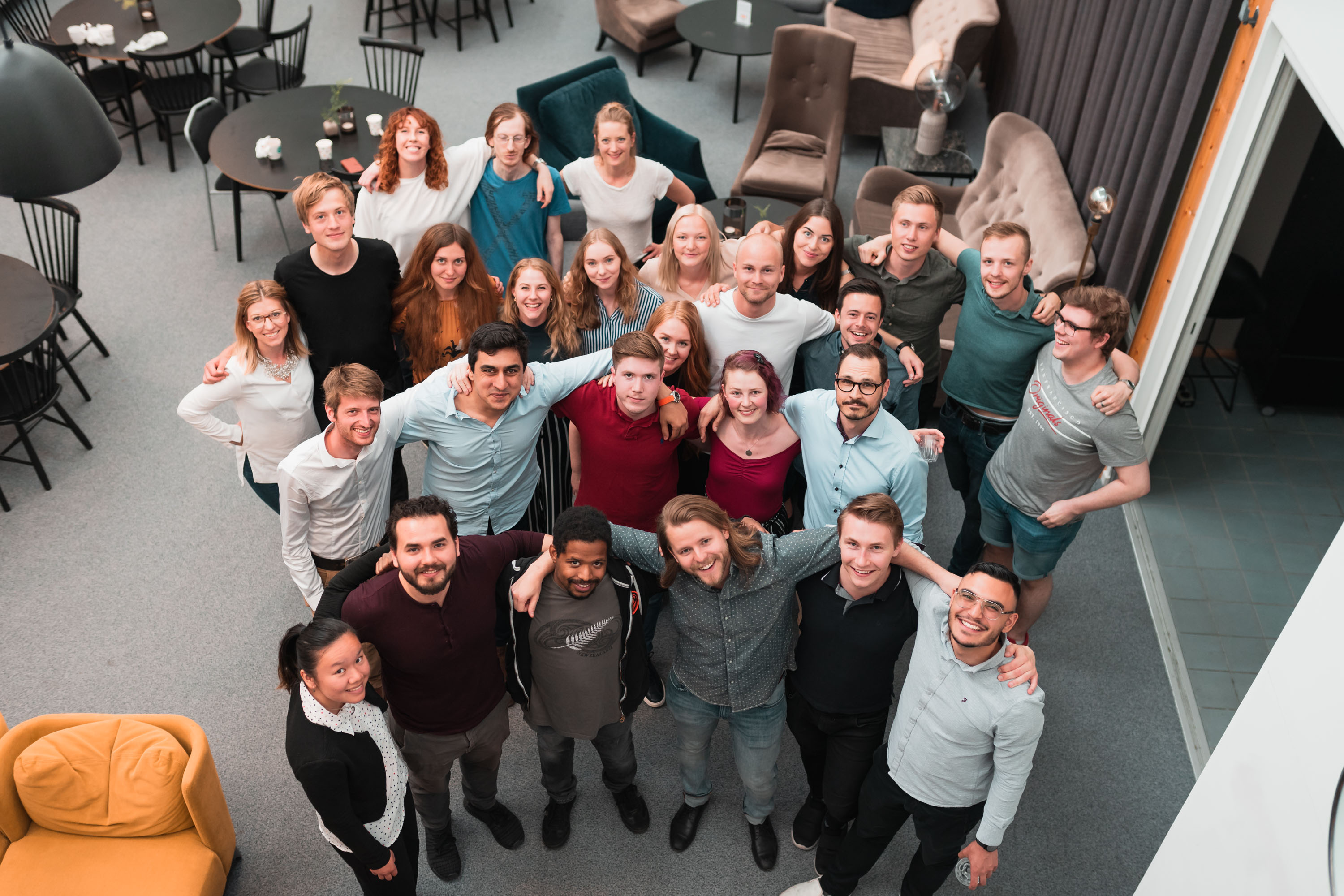 6 of the summer students were working with space cases.
During the summer period LTU Business performed "Space Innovation Summer", an initiative were 6 space students were employed during the summer to develop three space  business cases; (1) a services for aurora predictions in collaboration with IRF, (2) a service for avalanche forecast (a student idea) and (3) services for independent space environment qualification (PASQ)
Aerospace Cluster Sweden
The work to establish the northern node of Aerospace cluster Sweden is progressing according to plan. A road trip to 5 cities led to meetings with 42 participants from 30 regional companies and the interest to enter the aerospace business is steadily increasing. During 2020 we will provide a tailormade programme for SME:s interested in learning more about the aerospace business both on the technical and commercial side. The start is planned to mid March and will continue six months with 4-5 gatherings.
The graduate School of Space Technology
The graduate School of Space Technology had its final workshop in October and plans for a fourth round in undergoing. The concept has been extremely successful were almost all 19 PhDs are preparing for their upcoming dissertations. We believe that the combination of the RIT projects and the graduate school was a contributing factor to the success and something that we need to build on for the future. In addition, interesting cross-fertilization between research fields were enabled as well as knowledge and technology transfer between academia and the space industry.
Finally, I would like to thank all of you for this first year within RIT2021 and wish you a nice and peaceful holiday. I look forward to seeing you in January again and to start up another fruitful year within RIT2021.
Johanna Bergström Roos
Project manager RIT 2021