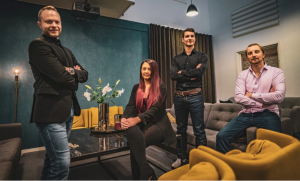 Arctic Space, a startup in satellite communications based in northern Sweden, is founded by three young engineers-turned entrepreneurs. Last week they reached a milstone when signing an international deal with Viasat, Inc.
Thanks to grit and business development support from the regional development project RIT2021 (Space for Innovation and Growth), their innovative concept has accelerated into a successful startup with international appeal.
The company's CEO and co-founder Sandra Nilsson has previously described their how RIT2021 has helped them establish Arctic Space:
– Arctic Space was founded by engineers, so getting access to the business development expertise and support through RIT2021 has enabled us to enter the market much faster.
Led by Luleå University of Technology, the parties in RIT2021 have worked for seven years to strengthen innovation and growth in the space industry. Acting project manager Jonas Hjelm says
– A large part of the project's activities have been about supporting ideas at an early stage to develop into new companies and products. We are extremely happy and proud to be part of the Arctic Space trip.
Attracts people, investments and establishments to northern Europe
With its geographical location in combination with good infrastructure and sparsely populated areas, northern Sweden has the potential to be the Silicon Valley of space.
World-class space research is conducted here, at Luleå University of Technology, the Institute of Space Physics, Eiscat and SSC – Esrange. Now, through a ground-breaking project, they are taking the next steps to create growth and strengthen Sweden and Europ's position in the global space sector.
 RIT2021 – an innovative regional investment in a hot global arena
The uses of satellite data are many and they will play an important role in solving the global challenges we face – not least those linked to the environment and climate. The industry is experiencing strong growth and is valued at US $ 400 billion globally. Development is happening enormously fast, driven by increased collaboration between academia, industry and local suppliers of high-tech services and products.
RIT 2021 is a broad close partnership between academia and industry and the public sector with a total budget of SEK 60 million / EUR 5.8 million. The project is run by Luleå University of Technology, LTU Business, IRF and Arctic Business, with support from OHB Sweden, SSC, GKN Aerospace, Norrbotten Region, Kiruna Municipality, Luleå Municipality, Sparbanken Nord and the European Regional Development Fund via the Swedish Agency for Economic and Regional Growth.
Read more at Spacenews.com